Stressed to beautiful balls
by Stress Busting Therapist and Amazon Best Selling Author Veronica Farmer 
Chocolate bliss balls are a quick and easy healthy snack with simple ingredients and are perfect for when you get a sweet craving (guilt-free!). They are vegan, gluten-free, and have no added sugar!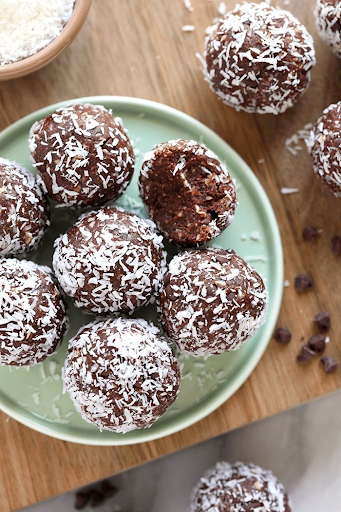 What are Bliss Balls? 
Bliss balls are energy bites of goodness that hit that sweet or chocolate craving but full of healthy goodness that your mind and belly will love!
 These chocolate bliss balls are quick and easy to make (less than 15 minutes) and have only a few simple ingredients.
Bliss balls can be stored and enjoyed at any time. These bliss balls are made with whole food ingredients Medjool dates, sliced almonds, cacao powder, ginger, dried apricots and shredded coconut.
Bliss balls are a healthy, nutrient-dense snack.  Made naturally sweet with Medjool dates that are fibre rich, antioxidant and nutrient packed with copper, potassium, vitamin B6, magnesium, calcium, and iron. Just 2 Medjool dates provides nearly a quarter of your daily fibre needs
By adding in almonds, we pack in more gut healing fibre and healthy fats for your heart. These fats help you stay full and belly satisfied, making you less likely to nibble on unhealthy snacks. 
Plus, these chocolate bliss balls are vegan, gluten-free, and have no added sugar, so they're great for anyone with dietary issues.
I like to make munching on these bliss balls a deliberate time out and a mindful stress-busting exercise.  In a life where most of us are racing from task to task and grabbing meals as we go, making yourself practice a mindful munch is a powerful way to calm and settle your nervous system, relax your mind and brings you back to yourself.
Be sure to honor your stress busting intention by practicing the special Breathing exercise below before you pop the first ball in your mouth!  Make these balls a stress-busting playful ritual xx
MAKES : 15 Balls 
INGREDIENTS
Pitted Medjool dates 3.5 cups
2 tablespoons of sliced almonds
Raw Cacao powder ½ cup
Organic whole ginger – thumb size
Shredded coconut 2.5 cups
5 dried apricots
Have to one side a side-plate with a layer of desiccated coconut to roll the finished balls in.
DIRECTIONS
Blend all ingredients together in a food processer until you've got a juicy moist mix and the ginger is well combined.

Grab a fat pinch of mixture and roll into a ball and repeat until the bowl is empty

Roll the balls in desiccated coconut to finish then pop in a container and refrigerate.
MINDFUL EATING  – HOW TO PRACTICE YOUR STRESS-BUSTING BREATH AS YOU EAT…
Take a ball in one hand
Stand with your weight equally balanced.
Close your eyes
Smile
THE 5 SECOND BREATH IN
Breathe through the nose to the count of five, imagining you are pulling a great wave of warmth from under your feet,  up through the knees, warming and relaxing the hips, soothing the belly, opening the chest and sending stress out the top of your head.
THE AHHHH BREATH OUT
Breathe out slowly making an "Ahhhh" sound through your open mouth sending a great wave of warmth from the crown of your head, through the chest, soothing belly, feel the warmth through your arms and fingertips and run warmth down the legs into your toes.
OPEN YOUR MOUTH and slowly savour your Stressed to Beautiful Ball 
Enjoy 
Love V xx